Author of the article:Postmedia News
Publishing date:Jan 01, 2022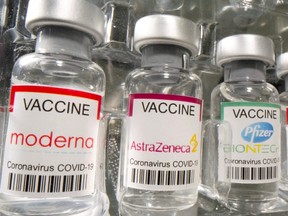 While COVID vaccines have been widely praised by many governments that have bought them, a healthy skepticism about the companies that produce them is warranted.
All vaccines used in Canada have been approved by health and government authorities, but obviously the drug manufacturers aren't doing it out of the goodness of their hearts.0 seconds of 3 minutes, 31 secondsVolume 0%00:0603:31More Videos They are profiting from taxpayers and cannot be sued for serious adverse side effects their vaccines may cause.
That's because they are indemnified by the federal government from liability, a standard, widely-used practice which predates COVID vaccines.
People who have life-altering adverse reactions to vaccines — while rare — have to apply to a recently created federal program for compensation.
The drug companies Ottawa contracted with to supply Canadians with millions of doses of COVID vaccines have been previously involved in many cases of wrongdoing.
In 2009, Pfizer pled guilty to violating the U.S. Food, Drug and Cosmetic Act, and agreed to pay $2.3 billion in fines in what the U.S. Justice Department described at the time as the largest health care fraud settlement in history for misbranding and illegally promoting four drugs under the civil False Claims Act — Bextra, an anti-inflammatory; Geodon, an anti-psychotic; Zyvox, an antibiotic and Lyrica, an anti-epileptic drug.
Pfizer was also accused of paying kickbacks to health care providers to induce them to prescribe its drugs and promoting Bextra for off-label uses and dosages the U.S. Food and Drug Administration hadn't approved for safety reasons.
AstraZeneca, contracted by the federal government to supply up to 20 million COVID-19 doses, is no longer being used in Canada.
In 2010 it paid a $520 million fine imposed by the U.S. Justice Department to resolve allegations it had illegally marketed the anti-psychotic drug Seroquel for off-label uses not approved as safe and effective by the FDA.
Johnson & Johnson — contracted by the federal government to provide up to 38 million doses of its one-dose vaccine — paid $2.2 billion in 2013 to resolve U.S. Justice Department investigations of kickbacks to doctors and pharmacists arising from its sale of Risperdal, Invega and Natrecor, including promoting the drugs for uses not approved as safe and effective by the FDA.
https://torontosun.com/opinion/editorials/editorial-drug-companies-arent-saints