by Mark Steyn
Mark's Monday Notebook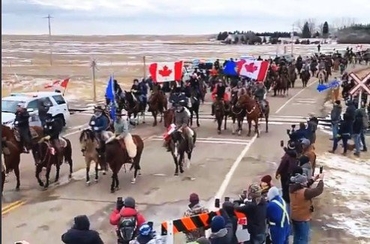 In Ottawa, attempts by agents provocateurs to provoke violence at the Freedom Rally have gone nowhere. So last night, "anti-hate" buffoon Bernie Farber, friend to censors everywhere, was reduced to hate-hoaxing for Justin by circulating "anti-semitic flyers" sent to him by a "friend" "in Ottawa". Inevitably, within moments, they were revealed to be from something entirely different in Florida some weeks ago. So Bernie explained that his imaginary friend in Ottawa had seen actual hate flyers in Ottawa but had accidentally emailed him a similar flyer from America or something… These days Farber disgraces even himself.
Meanwhile, the Ottawa police have begun arresting citizens trying to deliver food to the truckers. There is no basis in Canadian law for the actions these goon coppers are taking, but the attitude of their dreadful police chief is: hey, the law is whatever I say it is. So he has ordered the arrest of citizens for "mischief". By mischief, he means bringing sustenance or heat to protesters passing the night in temperatures of twenty below.
~Many parts of the western world are in a very dark place right now, but none more so than Canada. Its unseen prime minister, who came into office promising "sunny ways", can no longer appear in public and sweepingly, tweetingly declares that he doesn't need to because the sort of chaps you run into out there are rubes who don't even know they're Islamophobes, transphobes, thisaphobes, thataphobes, too dumb even to be aware they're working for Putin.
As Tucker and I used to joke five years back, across the developed world the elite rise up against the masses: it's like an anti-1848, prefiguring the post-democratic era that the 2020s will usher in. The present showdown between the Bollywood Bridesmaid and the truckers who deliver his quinoa has made it about as explicit as you can get. The good humour in the face of elite contempt is impressive. Here are a couple of typical "angry" "hate-filled" "white supremacists":
Arwen ~ click on link to continue reading..
https://www.steynonline.com/12119/the-cavalry-rides-in-to-covidstan?fbclid=IwAR1Ld4wy8NzOzGh2xLxEpRM_82HfKAUhNet027Sfaz8F55vmhQU8Hi_ZHGM