The psychologist, who supported the Freedom Convoy protests, released a song aimed at the Canadian prime minister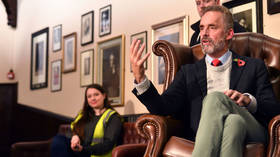 Jordan Peterson addresses students in Cambridgeshire, Britain, November 2, 2018 © Getty Images / Chris Williamson
Canadian psychologist Jordan Peterson has released a song dedicated to Prime Minister Justin Trudeau. The tune, which draws influence from Pink Floyd, seemingly criticizes Trudeau's handling of the anti-mandate Freedom Convoy protests, which Peterson has been vocal in his support for.
Entitled 'Wake Up', the song was published on Peterson's YouTube channel on Saturday. Composed by Peterson and musician Skutch Tully, and featuring lyrics sung by Tully, Peterson, and Peterson's wife Tammy, the track blends Peterson's political message with guitars and pianos clearly inspired by prog-rock legends Pink Floyd.
The lyrics seem directly aimed at Trudeau, who responded to the Freedom Convoy protests first by leaving Ottawa, then by returning and enacting unprecedented emergency powers to crack down on the demonstrations.
Arwen~ Click on link to watch the video
https://www.rt.com/news/550044-jordan-peterson-song-trudeau/